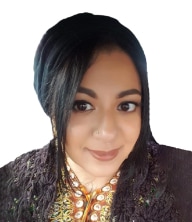 Hanaa Asif
Paraplanner
Favourite quote: " What is meant for you will never pass you by."
Location: Bedford
Hanaa graduated with a MSc in Economics from Manchester University and returned to her home in Scotland where she run a business for 7 years within the hospitality sector. This experience granted her skills in management and recruitment as well as effective communication and conflict resolution.
She moved south of the border to Bedford when she met her husband, resulting in a change of career. Her first interview was with an IFA in Milton Keynes, who created a Trainee Paraplanner position for her and ignited a love for paraplanning. She has been in financial services for the last 6 years and has worked for an IFA as well as an outsourced Paraplanning firm. She is currently working towards gaining her Diploma and loves the flexibility Alexander House Financial Planning grants her, allowing her to fit studying in around her personal life.
Hanaa lives with her husband, two children and a cat. Family time includes cooking, baking and coming up with craft projects. During the holidays they love going abroad or else visiting Hanaa's family in Scotland, where they love exploring beaches, waterfalls and cliffs.