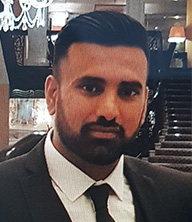 Jasbir Singh
Financial Adviser
Favourite Quote: Think Good Thoughts, Say Nice Things, Do Good For Others (Jas)
Location: National
About Me: Jasbir is one of our experienced Diploma qualified Financial advisers, working in the financial services sector since 2004. Helping define key Financial Planning outcomes, his services include Pensions, Investments, Personal Life protections, Business Life Protections, Cash flow Modelling, Retirement and investment planning.
Previously, Jasbir has worked for a London Based Financial Planning Firm managing clients on a National Basis, working closely with fund managers such as Brewin Dolphin, Lion-Trust, Baillie Gifford.
The importance of professional and expert advice, allow all clients to benefit from his dedication to the financial services industry and the financial advice processes involved, helping guide his clients through the different life stages of Financial Planning.
Outside of work, Jasbir enjoys countryside walks, Design, Fashion and the Parkinson's UK Charity.
SPECIALISMS:
QUALIFICATIONS: DIPFA